HPC Bilingual Primary School
At the HPC Bilingual Primary School your children can learn something special in a playful way. "Bilingual teaching" - this means that the pupils experience both German and English as languages of teaching. The children learn the language naturally, just like a child who grows up bilingual right from the start.
This bilingual primary school program follows the currently valid version of the Baden-Württemberg Educational Plan for Primary Schools and simultaneously integrates the curriculum of the International Baccalaureate Primary Years Programme.
The reliable Primary School - flexible in many ways
The Bilingual Primary School of HPC follows the concept of the 'reliable primary school'. This means that you as parents can rely on your child being in good hands with us every day during the core school period. Even if teachers fall ill, your child will have lessons.
This also applies to childcare hours. Your child will be reliably looked after by us during the booked care times and is in good hands every day. During the care times you have booked, your child will meet well-trained and benevolent staff who implement and develop a high-quality program.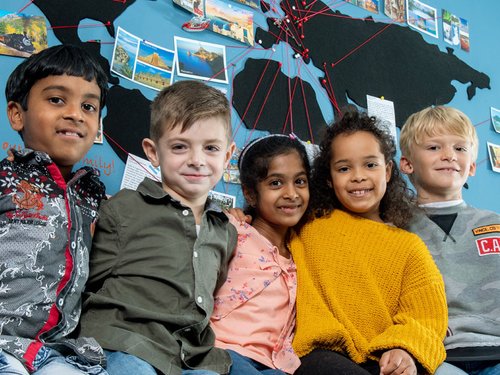 What sets us apart
Native speakers provide a natural, authentic and intensive language experience.
Manageable class sizes and holistic support of pupils.

Solid elementary education in mathematics, German and English.
At our Bilingual Primary School the subjects Mathematics and German are taught in German in all classes. The subjects English, music, science, ethics as well as movement, games and sports are generally taught in English.
The children speak, read and write in German and English from the first grade on. The languages are taught according to the language immersion method.
Bilingual teaching with dual language immersion
The language immersion method is a successful form of language learning. It is internationally acknowledged and represents a convincing alternative to traditional foreign language teaching.
Language teaching is no longer based on teaching a language as a grammatical system of rules, but on exposing learners to an authentic language pool right from the start. This means that teachers speak exclusively in the target language right from the start and supplement the spoken language with body language and visual material. In the same way that children acquire their mother tongue, they learn (another) language(s). After all, they use it just as naturally as their mother tongue.
After completing primary school, your child can continue his or her education in both languages at our Bilingual Realschule and Bilingual Gymnasium.
Music lessons or foreign language lessons in any language desired can be offered and realized in-house by arrangement in the Afternoon at a charge, so that additional rides are not necessary. Our partner is the Modern Music School.
We offer:
Full day care with optional Afternoon program

Additional educational services such as optional packages "Pedagogy Plus" and "International Education"
Please feel free to contact us if you have any questions about our all-day supervision and our offer or if you would like further information.

Starting in September 2020, the monthly school fee is 165.50 euros plus the fees for care or the optional package "International Education". The supervision fees are added accordingly. We would be happy to advise you individually.
Processing fees: 295 euros
Second child regulation
A sibling discount is available for all parents who have a second or more children at one of our schools. Just contact us about this when you register.
We would be happy if we could convince you and your child of our bilingual primary school. If you have any further questions, e.g. about bilingual teaching or our concept of a reliable primary school, we will be happy to answer them.
[Verena May-Stoll (middle), William Eckel (left) and Silvija Pokladek (right) – Principal Team]
Currently you can reach us from 8:00 to 13:00 am!

We have our own applicant portal for easy application and registration.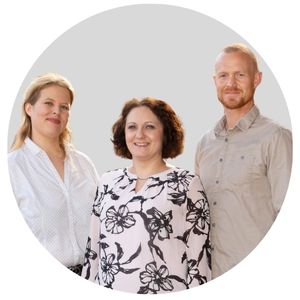 For questions please use the contact form - we will get back to you as soon as possible!